Expecting a new baby is such an exciting time but can be as equally stressful. You may feel guilty for focusing on taking care of yourself and preparing your home for the new arrival.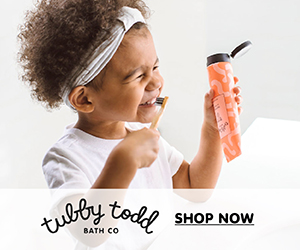 Maybe you have toddlers or preschoolers that don't understand what all the fuss it about and want all of your time and attention to still be on them. You might have older children that are nervous about the changes to come.
If you are a second or third time mom preparing for the birth of her next child or even preparing for the adoption of a child, this post is for you!
Here are 10 things you can do to prepare older siblings for the birth of their new brother or sister!!
This post contains affiliate links, which means I receive a small commission, at no extra cost to you, if you make a purchase using this link.
---
1. Have a FUN pregnancy announcement!
As soon as my husband and I were ready to announce our pregnancy we created really fun ways to involve our kids in the process. The first time we played a game of hangman with them both and the phrase we included was  that we were having a baby! The second time they were a bit older and we "slimed" them (think Nickelodeon slime) with the color of the gender! They were so excited.
2. Talk openly about the baby.
This will definitely be easier with older children but you can still do this with your littles as well. Talk about what might change in your family? Will your kids have to share a room? Will you have to move a child out of your room to make way for the new baby? Talk about how your routine as a family might change.
3. Take them to the Doctor/Midwife for appointments.
Sometimes it can be hard to understand something you can't see/hear or feel. As often as possible, bring them to the doctor with you so they can hear the heartbeat or see the ultrasound and it may help them to understand the process a little better.
4. Read them books about new siblings.
One way to help prepare them is to introduce books that talk about the birth of a new baby. Some great recommendations for little ones are :
Other books for bigger siblings include:
5. Show them your growing belly.
You could involve your children by measuring your belly growth each week with a tape measure or taking weekly pictures together with your baby bump! This is sure to make them feel involved with the growing baby and belly!
6. Help them feel the baby move.
Once baby is moving around help them to feel their new brother or sister to foster that connection. * Smaller tots may not like this, they may not understand what is going on inside of your belly and it could scare them.  Don't make them touch your belly if they do not desire.*
7. Follow a weekly app together.
My children have loved following along with my pregnancy app on my phone and waiting each week for new updates to hear what is going on with their brother/sister. Bonus if the app has a video of weekly progress to play along with it!
8. Let them pick out a special gift for the baby.
Have each child pick out an item for the baby such as an outfit, toy or book. When the baby arrives they can each present the new baby with their special gifts.
9. Intentional Time together.
Before baby arrives make sure to carve out time for one on one time with each child and special moments together as a family. This will communicate to each child how loved and special they are and how much you enjoy spending time with just them. Reassure them that although things may change when the baby arrives it will never change your love for them. When you carve out special time together as a family before the baby's arrival, let them know how much you love spending time together as a family now, and express how much you are looking forward to watching your family grow more!
10. Talk about what will happen when the baby is born.
Tell them exactly what the plans are so there are NO surprises and they know what to expect. Who will care for them. Where they will stay? Will the routine stay the same? Will they stay in school or be allowed to be out? How long you expect to be gone? Obviously you can't plan for every detail, but having a plan in place that they are familiar with is crucial! Their world is about to get turned upside down the next few weeks and months so make as many things as predictable as possible!
---
Accepting a new sibling in the home is hard. Bringing your new baby home is hard. Expect the unexpected.
Toddlers and preschoolers will get jealous. They will want to help WAY too much. Their  routine and sense of normalcy will be thrown off. They may start acting out or show signs of regression.
Older children may start having unexpected attitudes. They may start arguing with other siblings for NO reason. They suddenly become forgetful or start getting in trouble at school.
All of this is SO normal. As much as we try to prepare ourselves and our children for the changes new life brings, truth is, we never will 100%. Why?
WE are HUMAN . . . little or big! Give yourself and everyone else LOTS of GRACE. Remember it is a period of adjustment.
Let me know how these tips have helped you prepare your children for the birth of a sibling! Comment below!